Yokohama is a city where I live. In the city, there are many places where people preserve cherry trees which come into bloom in late March ~ early April. Let me introduce to you several out of many with some information about types of cherry trees.
Negishi Forest Park (cheery tree type: Somei-Yoshino)
Negishi Forest Park is located on a hill, featuring lush forests of various kinds of plants including cherry and plum trees and vast lawn areas created in the center. Hundreds of cherry trees form "Sakura Yama" (Sakura for cherry trees, Yama for a mountain or hill), being one of the biggest attractions of the park. Predominant cherry trees on Sakura Yama are Somei-Yoshino which originated in a garden plant established in late Edo period. What is interesting about Somei-Yoshino is the fact that it propagates NOT by seed BUT by grafting a Somei-Yoshino branch into another cherry tree. All Somei-Yoshino trees are linked to a single Somei-Yoshino in the Edo period.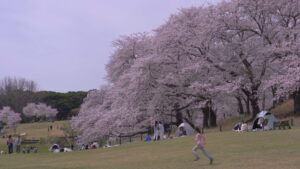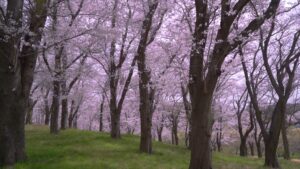 Sankei-en Garden (Somei-Yoshino)
Sankei-en Garden is a traditional Japanese strolling type of garden built by Hara Sankei, an entrepreneur who led a foreign trade from Yokohama through exports of silk in the late 19th ~ early 20th century. Its properties were built along the coast and across three small valleys, providing magnificent geographical features. Seventeen historical structures including a three-storied pagoda were relocated from old cities in Japan such as Kyoto and Kamakura, harmonizing with the landscape and nature across four seasons. Late March ~ early April is its highlight with full bloom of Sakura cherry blossoms. Sankei-en Garden can be reached by several public bus routes, out of which I'd recommend is one from JR Negishi Station to Honmoku Bus Stop (10 min) and then walk along cherry tree street (7 min).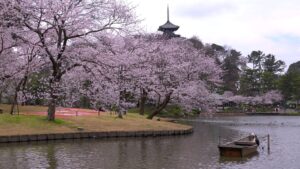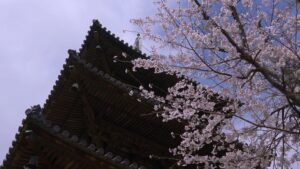 Yamate Italian Garden (Ohshima Zakura)
Yamate Italian Garden is located on a hill, 5-minite walk from JR Ishikawacho Station. The hill used to called Italia-Yama or Mt. Italy for its being a place where the Italian Consulate existed in the late 19th century. The garden is designed with much of such western tastes as symmetrical flower beds and the arrangement of fountains. Two historical houses were relocated and restored on the property; Bluff No.18, a French tiled-roof house; Home of Diplomat, a house which was owned by Mr. Sadatsuchi Uchida, a diplomat of the Meiji government. There are several cherry trees in the park and the most magnificent is one next to Bluff No.18. This is Ohshima Zakura, a cherry tree with the visible feature of snow-white petals and green sepals, while those of Somei-Yoshino are light pink and pink, respectively. The name of Oshima Zakura is said to come from a 800-year old cherry tree surviving on Izu Ohshima Island, an inhabited volcanic island in the Izu archipelago off the coast of Honshu Island.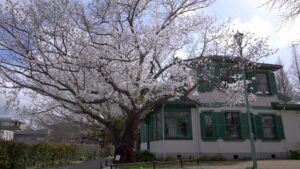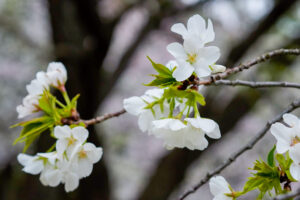 Kikuna Sakura-yama Park (Sato-Zakura)
Kikuna Sakura-yama Park is located in 10-minute walk from JR/Tokyu Kikuna Station. The garden is extended over a gentle slope of Carbon-yama (yama for a mountain or hill). The reason why it's called Carbon Yama is based on the fact that the property used be owned by Dai-ichi Carbon Co.Ltd. in Yokohama. The company sold the properties to a real-estate company which planned to build a huge apartment over the hill but local people acted to protect the hill and moved Yokohama City to buy back and opened the place to public as a park. There are about 150 Sato-zakura which are double-flowered cherry trees. They become full bloom in middle April. Actually, their petals are NOT doubled or two-layered BUT several-layered, which is why people call the cherry trees "Yae Zakura" ; Yae refers to eight or many; Zakura to Sakura cherry trees.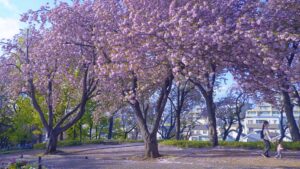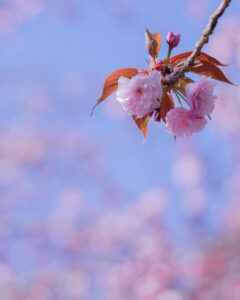 By Jin Shibata