Many of inbound tourists to Tokyo want to extend their legs to Nikko Toshogu Shrine because it is a central property of the UNESCO world cultural heritage sites in Nikko. But it takes three hours to get there from Tokyo by public transportation (one way) so majority of them give up fulfilling their want.
Then, what could be their 2nd best? How about Ueno Toshogu Shrine in Tokyo? Out of 130 Toshogu Shrine in Japan, Ueno Toshogu Shrine is a high-ranking Toshogu Shrine after Nikko and Kunosan Toshogu, built as a compact but magnificent complex. At Ueno Toshogu Shrine enshrined are the deified spirits of Tokugawa Iyeyasu (the 1st Shogun of the Tokugawa Shogunate), the 8th Shogun Yoshimune and the 15th and last Shogun Yoshinobu. The Shogunate lasted from 17th to 19th century, keeping its seat in Edo (old Tokyo). People in Edo wanted to pay a visit to Nikko Toshogu Shrine but it was not an easy trip because of Nikko being far away. For such Edo people, Ueno Toshogu Shrine (built in 1627) served as "Nearby Toshogu".
by Jin Shibata
Ueno Toshogu Shrine is a complex of several Shrine structures which include the followings.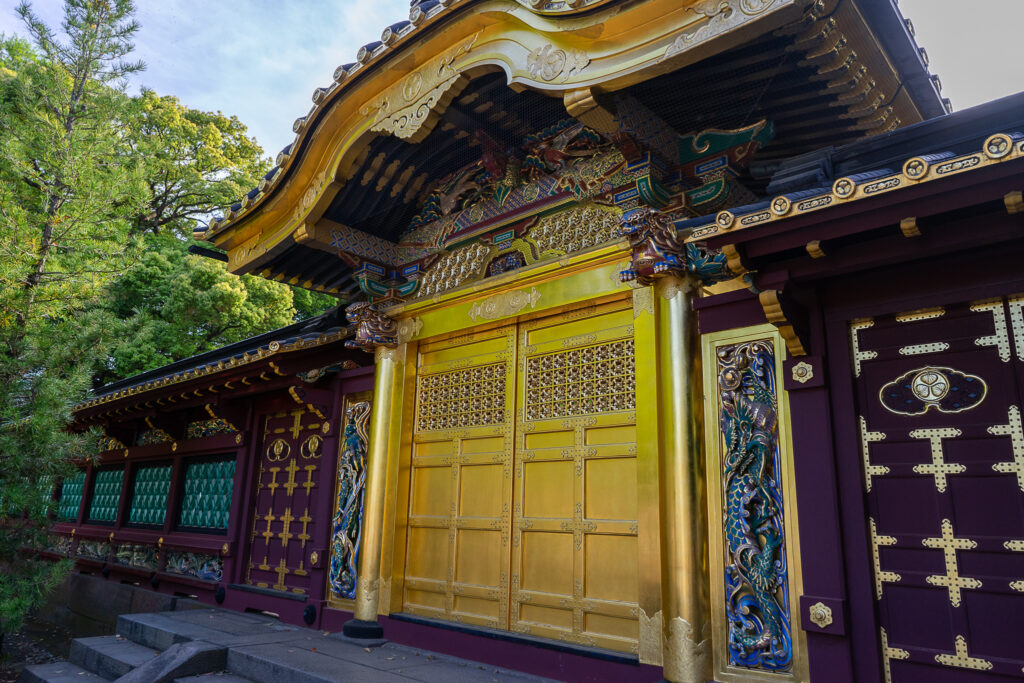 "Karamon" Gate (left above)
"Karamon" Gate and its walls surround the main shrine structure. Karamon gate is a gate which has an undulating gable. The gate is very unique in several aspects. For instance, there are two carvings of dragons on the pillars of the gate; the ascending dragon and the descending dragon. Could you guess which is which?
"Golden Hall", the Main Shrine Structure (right above)
All the pillars and doors are covered in gold foil so this building is called Golden Hall. Because of its beauty and the cultural values, the main shrine building has been designated Important Cultural Property of Japan. The ceilings are decorated with lacquer and colorful and intricate carvings (but they are not open to the public so as to preserve their aesthetic quality from exposing to damp air).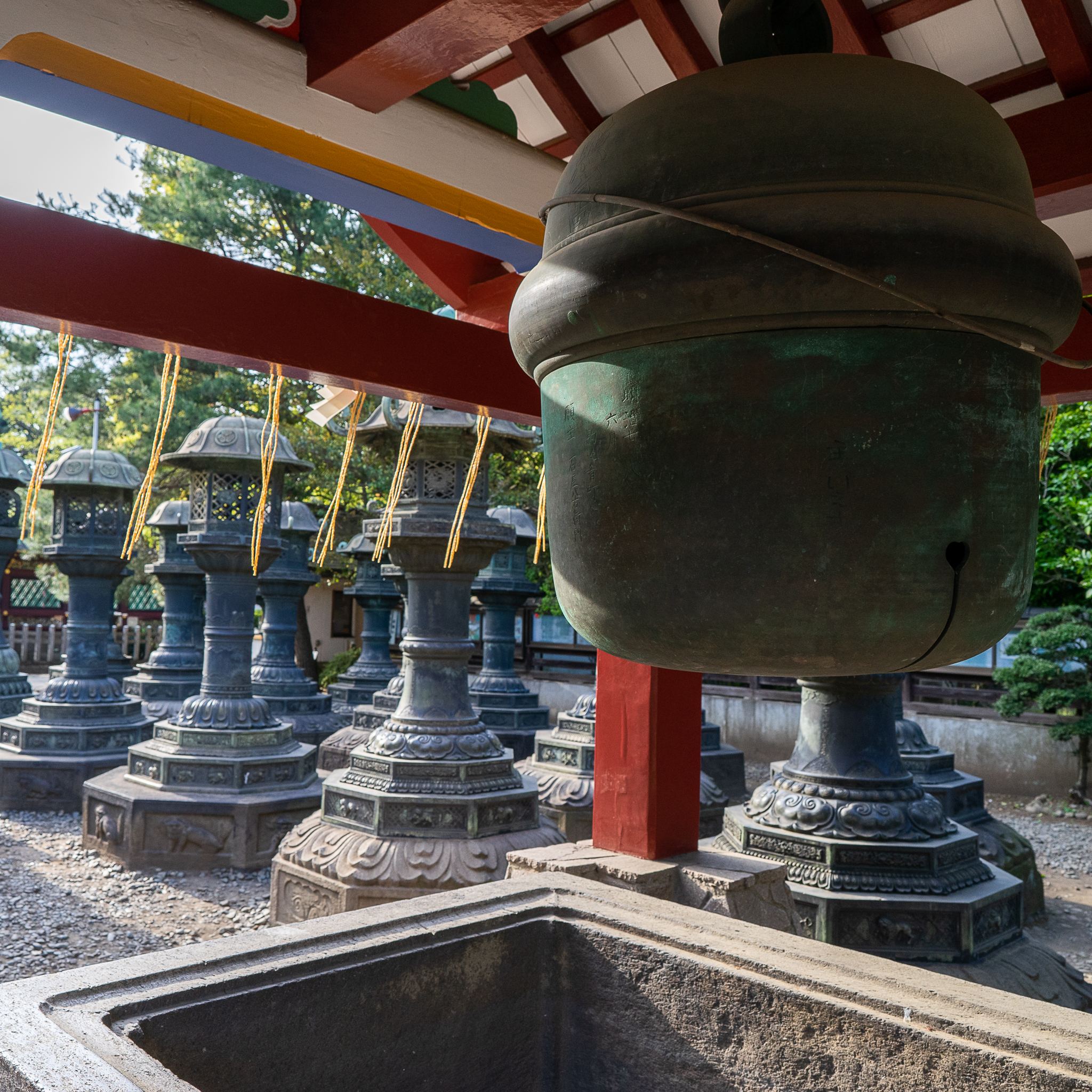 Cupper & Stone Lanterns (left above)
Along the approach to the main shrine structure, there are more than 250 big lanterns including 50 copper lanterns donated by the feudal loads. The lanterns are used as sacred fires for purification when religious rituals are held.
5-Storied Pagoda (right above)
From Ueno Toshogu Shrine, you can see a 5-storied pagoda which is situated on the property of Ueno Zoo but it used to be a part of Ueno Toshogu Shrine. The pagoda is a stupa where a small amount of ashes of Buddha is kept. Why such Buddhist structure coexisted with a Shinto Shrine? This represents the syncretism or the fusion of Buddhism and Shintoism which existed in Japan from the introduction of Buddhism in the 6th century.
Ueno Toshugu Shrine survived many disasters such as big earthquakes and fires which destroyed large parts of Edo during the Edo era, the civil war which happened in the process to move from the Tokugawa's feudalism era to the new era Meiji, and the last war in which U.S. Air Forces dropped lots of bombs over Tokyo but a bomb which fell on the ground of Ueno Toshogu Shrine did not detonate. So, Japanese people regard Ueno Toshogu Shrine as a spiritual spot which could bring to you success in your life and longevity.
If you have any feedback, please fill in the following. Your message will be sent to the author of this article. Thank you so much for your visit to the site.