Meiji-jingu shrine is a big Shinto shrine located in Shibuya, Tokyo. The main complex of shrine buildings is surrounded by a large forested area. This spacious area offers walking paths that are great for a refreshing stroll. It is one of the most popular sightseeing spots in Tokyo.
■ Emperor Meiji
Meiji-jingu Shrine is dedicated to the deified spirits of Emperor Meiji and his wife, Empress Shōken. In the late 19th century, the big political change took place in Japan. It is called the Meiji Restoration. The samurai government lead by the Shogun came to an end and the Imperial government was restored. Emperor Meiji ascended to the throne in 1867 and has taken a lead in making Japan a modern and industrialized country until he died in 1912.
■ Foundation of Meiji shrine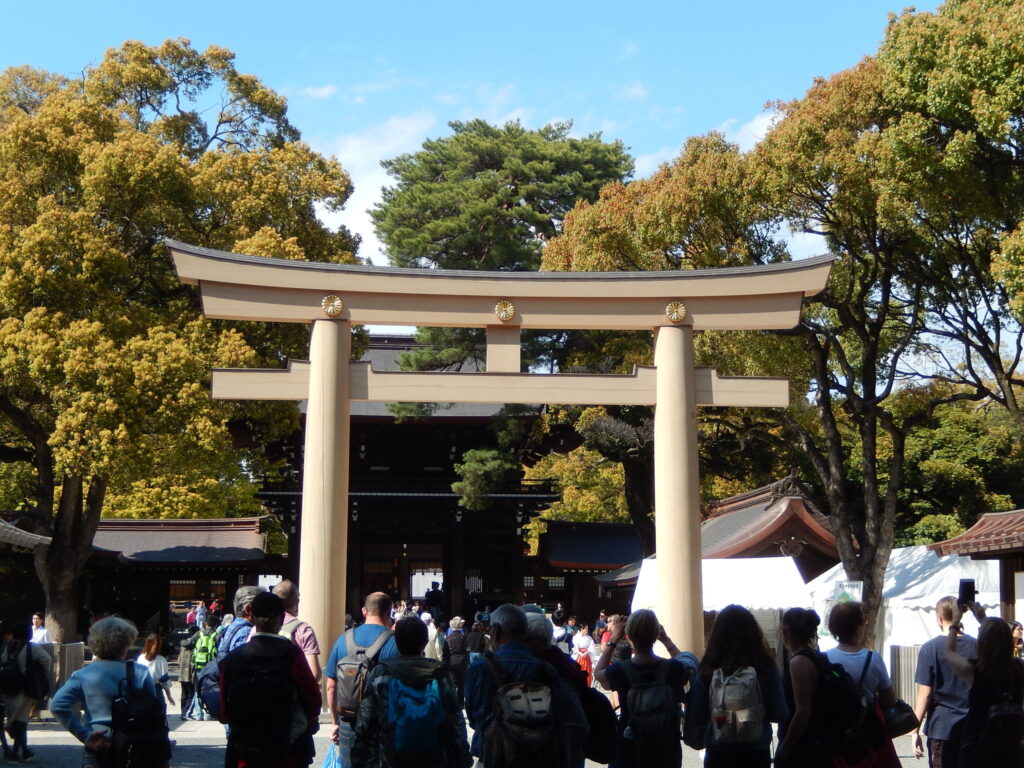 In 1920, Meiji shrine was founded to commemorate his great work as the country's first modern-day royal ruler. The shrine was officially designated one of the first rank of government supported shrines until 1946.
The shrine building was constructed in the nagare-zukuri style, using Japanese cypress trees and copper. It is a traditional Shinto shrine architectural style characterized by a very asymmetrical gabled roof. The original buildings were destroyed by air raids during the World War II. The present buildings were reconstructed in 1958. Now they have an air of tranquility, history and sacredness.
■ Feature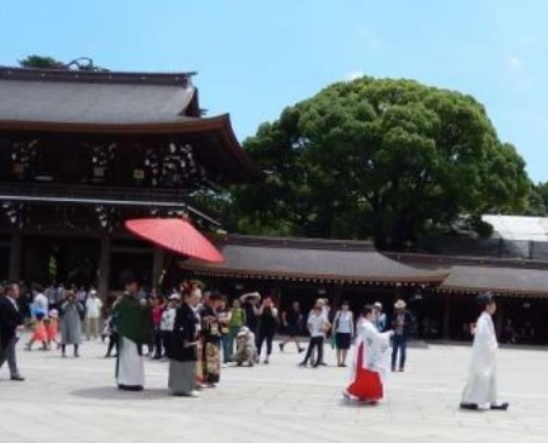 Visitors can experience typical Shinto activities, such as making offerings at the main hall, buying charms or writing wish on a votive tablet called Ema. Young couples like to hold a wedding ceremony here. If lucky, you can see a wedding ceremony conducted by the Shinto style. It is a popular spot, so during the first three days of New Year, over 3 million people visit to pray for the coming year. Because sumo has been deeply related with Shinto, champions of sumo wrestlers called Yokozuna hold special rituals in the Meiji shrine sometimes.
■Forest
The forest around Meiji Shrine covers an area of 70 hectares (170 acres). This evergreen forest consists of 120,000 trees of 365 different species, which were donated by people from all parts of Japan when the shrine was established. Now big and old trees in the forest add the sacred atmosphere. So, you can see many kinds of trees found all over Japan. This sacred forest is often called a lung of Tokyo, because it absorbs CO2 and produces oxygen by the trees.
■Access
The entrance of Meiji Shirine is marked by a massive torii gate. It is a few minutes walk from Harajuku station on the JR Yamanote line or Meiji-jingu-mae on the subway line.
■ Contact
If you want to feed back to the author "Eddy Murayama", please fill in the following form: