Need FlightRader 24?
There are four runways at the Haneda airport. B and D runways are placed in the direction of NE(north-east) to SW(south-west). while the remaining two A and C are put in the direction of NW(north-west) to SE(south-east). Your question of "Onto which runway, from which direction, will a next airplane be landing?" would be given a right answer if you understand the logic that an airplane is to approach against the blowing wind. When the wind blows from the south, an airplane is to approach from the north and land on B (from regions / countries in the south such as Okinawa, Asian countries and AU/NZ) or D (from those in the north such as Hokkaido, North Americas and Europe. It is one of joys for lovers of airplane photos to figure out a right answer to "Onto which runway, from which direction?", not looking into a smartphone application like Flightrader 24!
By Jin Shibata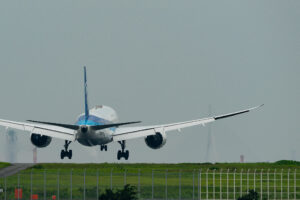 landing on B Runway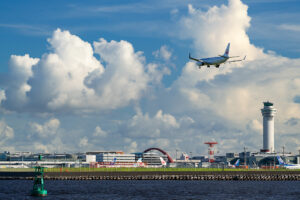 approaching to C Runway
If you have any feedback, please fill in the following. Your message will be sent to the author of this article. Thank you so much for your visit to the site!