Tomioka Hachimangu shrine is a beautiful shrine located in Fukagawa, Tokyo, just 3km east of Tokyo Station. There are many shrines and temples in this area. Among them, Tomioka Hachimangu shrine is one of the most popular sightseeing spots of Tokyo.
1. Hachimangu shrine
Shinto is indigenous religion of Japan and is said to have more than 80,000 shrines all over Japan. There are many kinds of shrines. Hachimangu is one of them.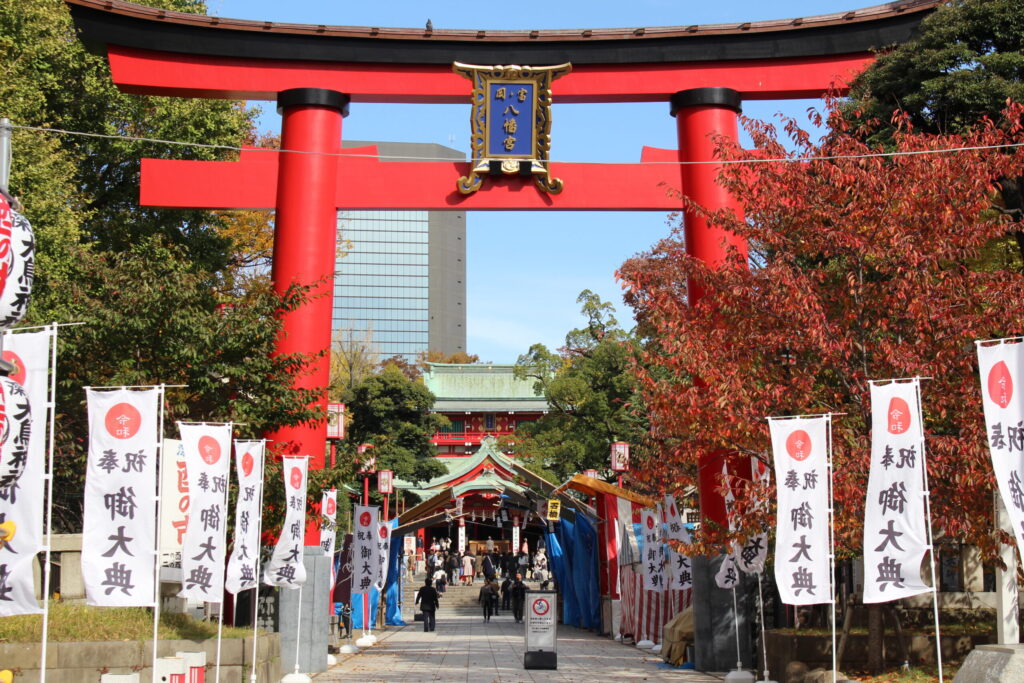 Hachimangu shrines are dedicated to the god of battle, Yawata no Kami, who was revered by samurai worriers. In Japan's history, from 12th century to middle of 19th century, Japan was in feudal period. Samurai worriers governed the country. So, they have created a lot of Hachimangu shrines to pray for their victory at battles. There are said to be more than 10,000 Hachimangu shrines in Japan.
Tomioka Hachmangu shrine is one of the largest such shrines. Since its foundation in 1627, it has been highly worshiped by locals.
2. How to pray
The main hall is a vermillion building. In front of it, people make offering, bow twice, clap hands twice, pray silently, then bow once more at the end. This is the way people do at almost all shrines.
3. Portable shrine
Every year around August 15th, the Fukugawa Hachiman Festival is held. It has been one of the three great festivals in Edo, today's Tokyo, (along with Kanda festival and Sanno festival).
Visitors must see Japan's best portable shrines decorated with gold, silver and diamonds which are displayed in the precinct. They are moved to go through the city by many people at the festival. One of highlights of the festival is sprinkling water to the people and portable shrines.
4. Sumo monument
Tomioka Hachimangu is regarded as the original place where sumo wrestling was permitted by the Edo shogunate in 1648. There is a monument on which the names of the Yokozuna throughout history are engraved. The Yokozuna is the top position in sumo wrestling.
5. Short walking tour
Tomioka Hachimangu shrine is worth visiting to feel traditional Japanese atmosphere. When I guide someone here, I always explain history of samurai and Hachimangu shrine, festival and portable shrines and sumo.
■ Contact to the author "Eddy Murayama"
If you want to feedback about this article or want to ask the author to guide, please fill in the folloing form: