Do you have any interest in taking photos of airplanes taking off and landing on an airport? If so, please do not miss visiting several places in and around the Haneda Airport.
Observation deck (5F, T2 second terminal)
The observation deck faces the east, commanding the view of C Runway. You'll be able to take photos of airplanes on C Runway with the background of the Tokyo Bay and Tokyo Sky-Tree.
taking off C Runway
Observation deck (RF-7F, T1 first terminal)
The observation deck provides views of A Runway and airplanes parking in front of T3 international terminal. If you were lucky, you would be able to see Mt.Fuji which appears silhouetted against the sky. I have not been lucky enough to enjoy viewing the Japan's highest mountain from the airport, so far.
Public Parks around Haneda Airport
There are several public parks from which you can observe airplanes reaching or leaving Haneda Airport. Photos below were ones taking by those parks.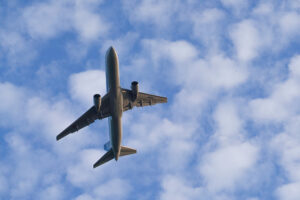 making a steep turn after taking off C Runway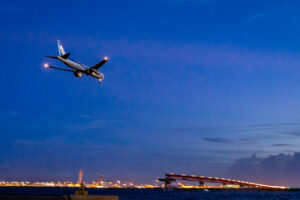 approaching to B Runway in evening twilight
by Jin Shibata
If you have any feedback about the article, please fill in the following. Your message will be sent to the author. Thank you very much for your interest!