1. What is Umihotaru?
Umihotaru is an artificial island located at the center of Tokyo Bay. It is a five storied facility having large parking areas, observatory decks, restaurants, toilets and souvenir shops. From the observatory you can see interesting sceneries including big ships moving around the bay, tall buildings in the central Tokyo, beautiful mountains of Boso and Miura peninsula, and Mt. Fuji if the weather is good.
Umihotaru literally means "sea firefly", because it becomes bright at night.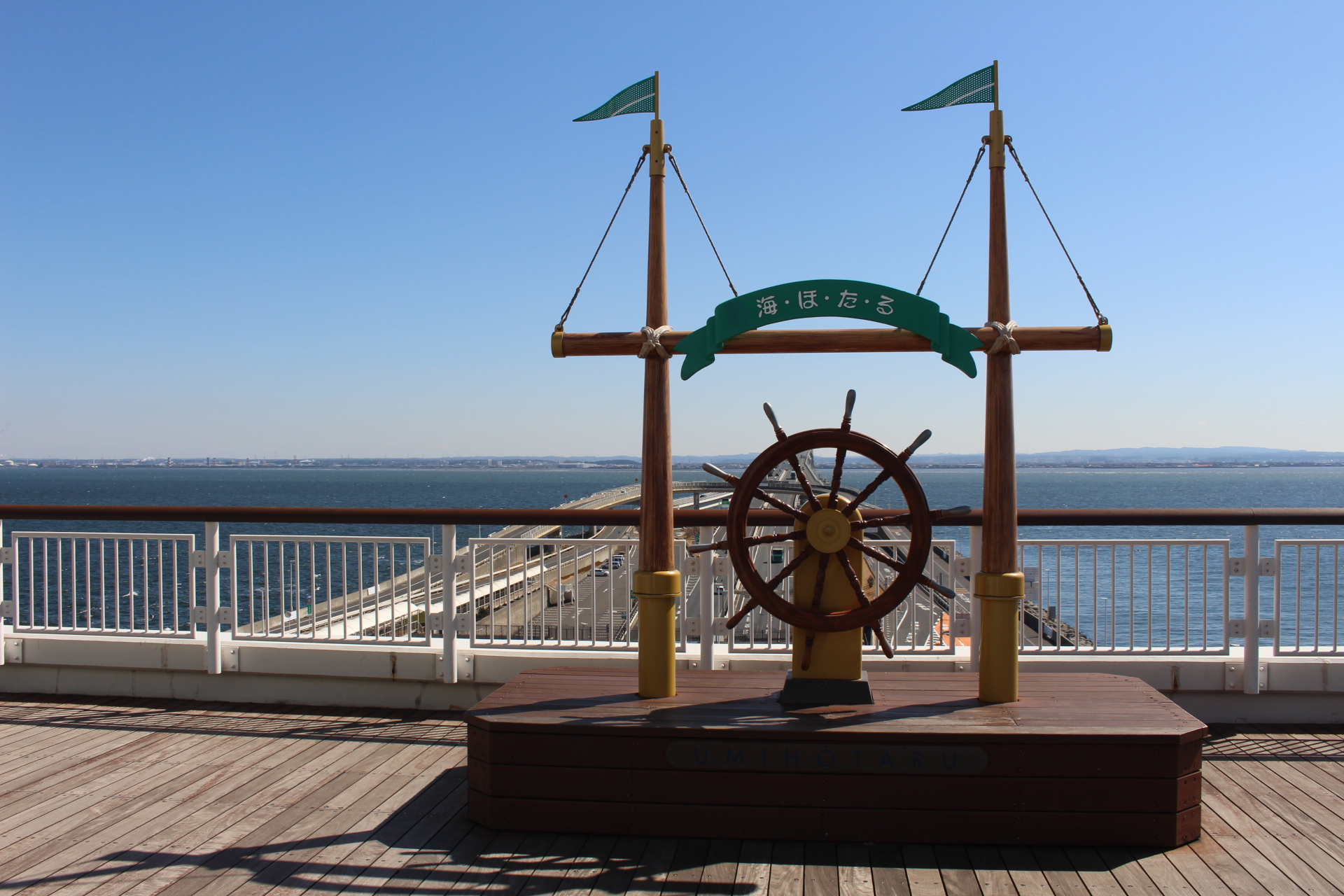 2.Tokyo Bay Aqua Line
Umihotaru is at the middle of Tokyo Bay Aqua Line, a highway connecting central Tokyo with the Boso peninsula. The highway consists of the undersea tunnel of 9.6 km and the long bridge of 4.4 km. It opened in 1997 after 23 years of planning and 9 years of construction at a cost of 1.44 trillion yen.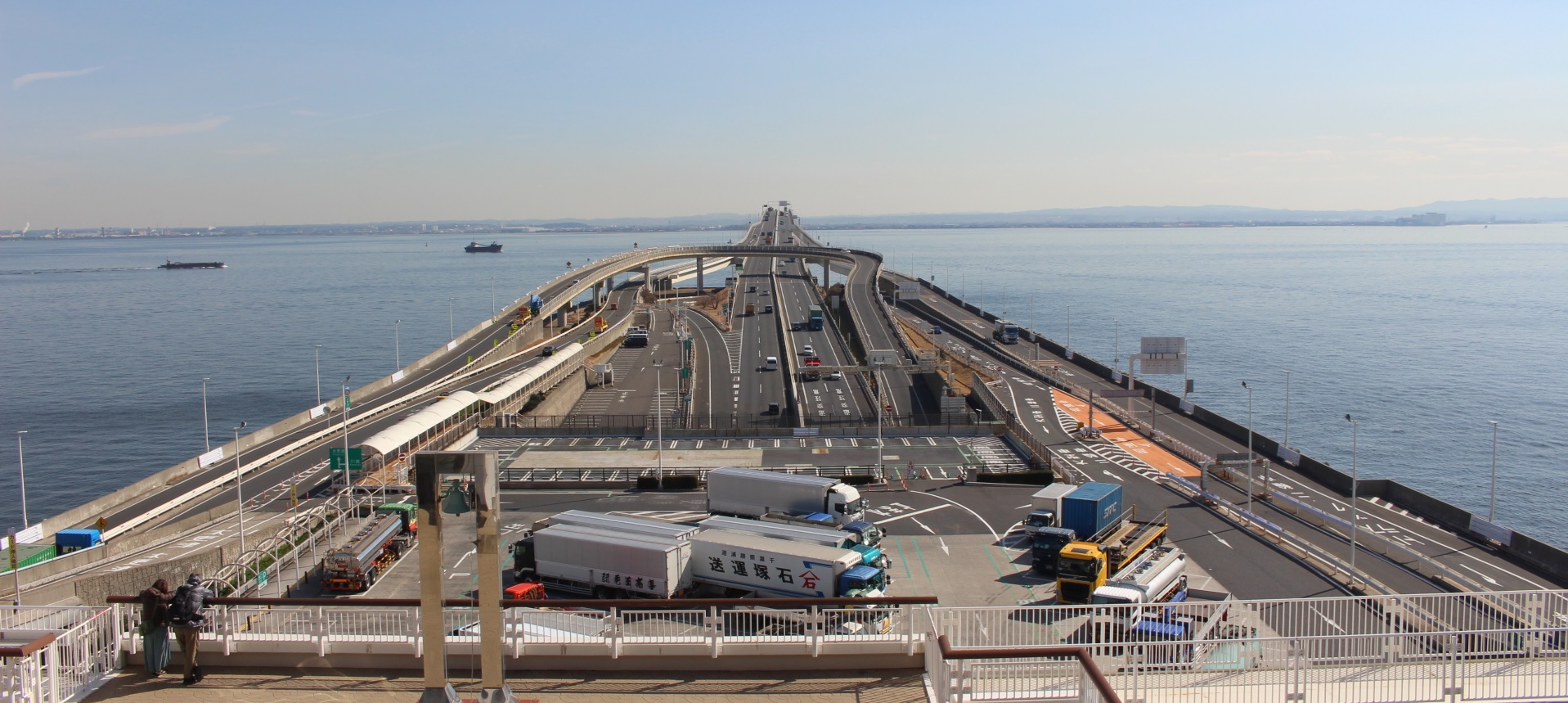 The Tokyo Bay Aqua Line contributed to cutting the travel time to the sea leisure area in the southern part of the Boso Peninsula from Tokyo and Kanagawa. It also reduced the drive between Chiba and Kanagawa, two important industrial regions, from 90 to 15 minutes. Before the tunnel opened, it was necessary to drive around about 100 km along the shores of Tokyo Bay and pass through the downtown Tokyo.
3. Tunnel digging machine
I must introduce the tunnel digging machine. The technology used by Japanese construction companies to make the undersea tunnel was very sophisticated. They developed a huge digging machine called "Shield machine". It turns a circular gear of about 15 m in diameter and digs the ground. A part of the huge gear is displayed at the Umihotaru. It is amazing to see the giant gear.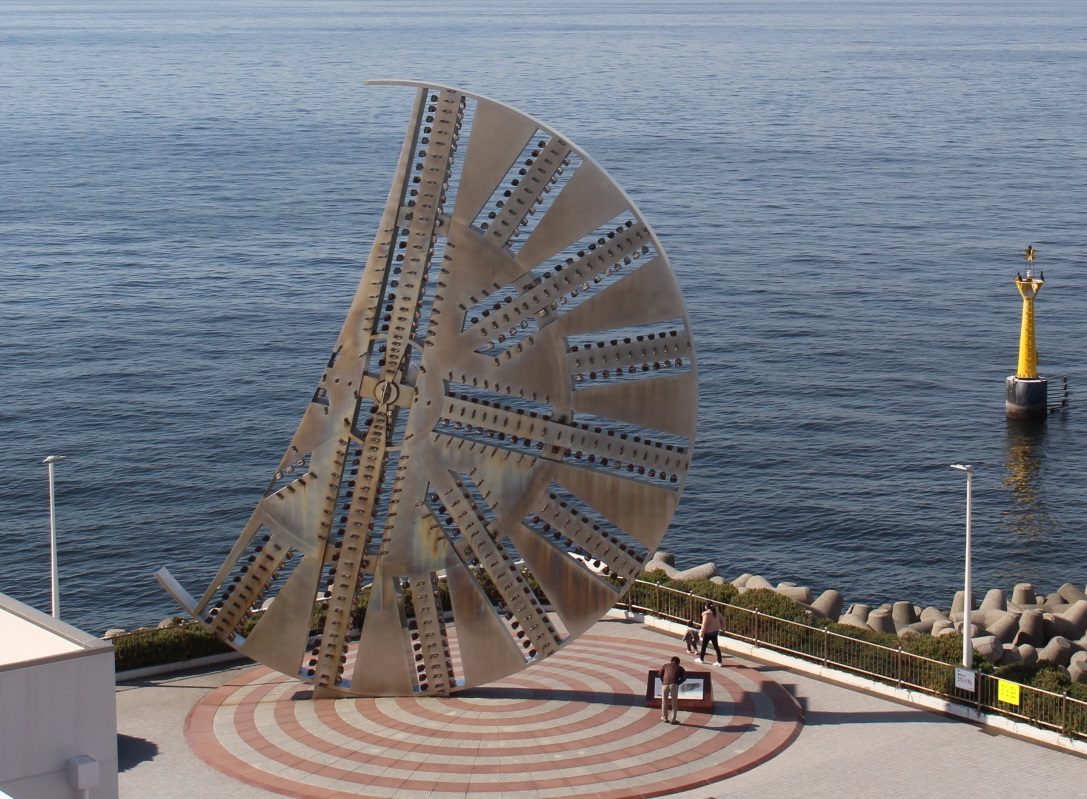 Other than this tunnel, there are many long undersea tunnels in the world such as the Channel tunnel between UK and France, and the Seikan tunnel between Aomori and Hokkaido in Japan. The Channel Tunnel is a 50.5 km rail tunnel linking Folkestone in the United Kingdom, with Calais in France, beneath the English Channel at the Strait of Dover. At its lowest point, it is 75 m deep. The Seikan tunnel in Japan is both longer overall at 53.85 km and deeper at 240 m below sea level.
Both tunnels were said to be constructed by using the Japanese digging machines.
Therefore, visiting the Umihotaru is both educational and fun.
4. Access
(1) About 30 minutes from JR Kisarazu station by the #7 bus
(2) About 45 minutes from JR Kawasaki station by the #22 bus
5. Reference
(1) The pamphlet about the Umihotaru
(2) Chiba sightseeing guide book
■ Contact
Please fill in the followint form, if you want to feed back to the author "Eddy Murayama".