Forest of Takao, Sacred Mountain for Shugendo Ascetics
Mt.Takao is located to the west of Central Tokyo. Greens are well preserved because the area has been protected by Yakuouin Temple as a sacred place where Shugendo mountain ascetics practice themselves. The basic concept of this 1-day model plan is to combine activities of hiking to the peak (599m) , visiting the time-honored temple and shrine on the route & enjoy lunch of Shojin Ryori (Buddhist vegetarian dishes.
One-day Model Plan
09:30 Meet at Keio Takaosanguchi Station (KO53)
Hike up (1.5 hours) or take a cable railway
Visit the Yakuouin Temple
Llunch of Buddhist vegetarian dishes
Hike up to Peak of Mt. Takao
Back to Takaosanguchi Station via "on-foot" or "on-foot + a cable railway"
16:30 Ajourn at Keio Takaosanguchi Station (KO53)
Transportation: cable railway & on foot
Visiting Places in the Model Plan
Cable Railway
This cable railway takes you to the altitude of about 500m from 200m in 6 minutes. Its slope is the steepest in Japan. You can take this for ascending (the original model plan) and descending (if you get tired on the way back).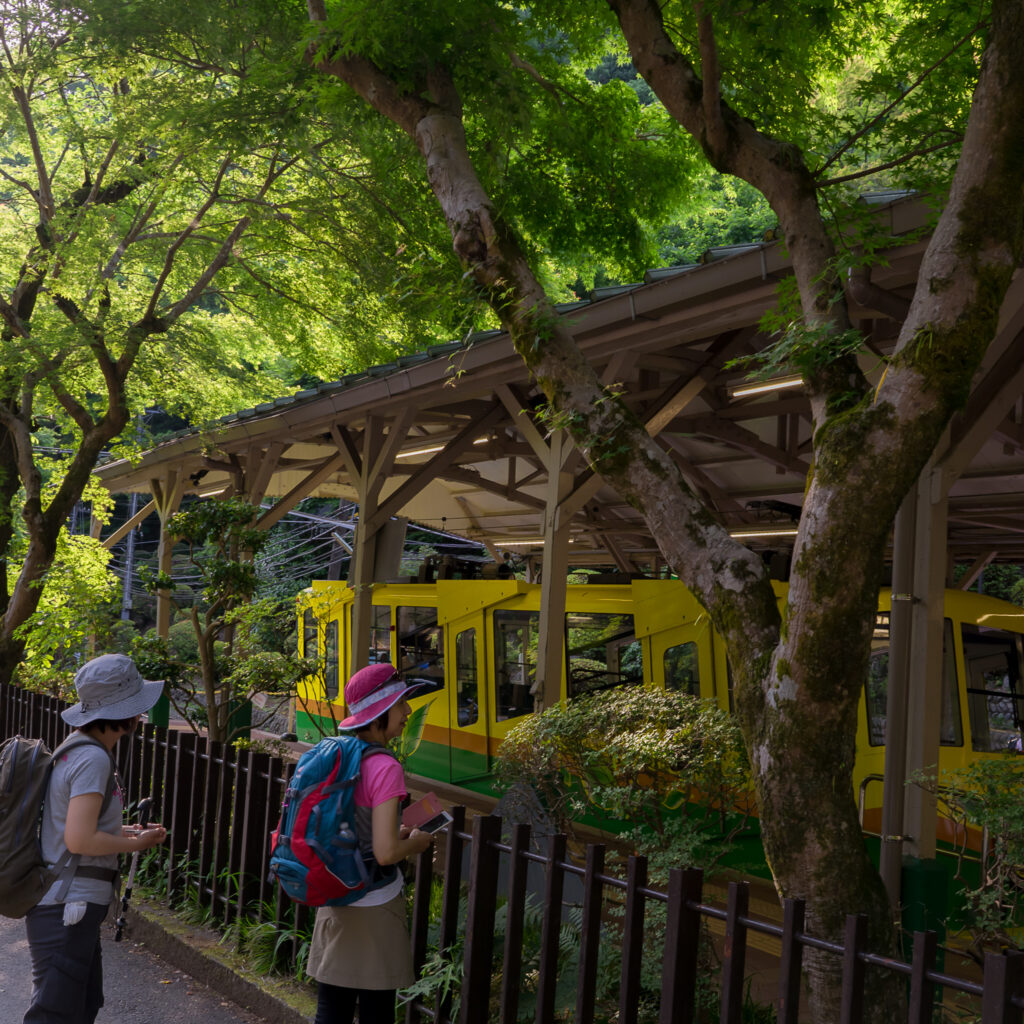 Yakuouin Temple
A representative location for Shinto-Buddhism syncretism. There are several big Tengu figures in the precincts. Tengu refer to mountain goblins who fly with wings and create supernatural phenomena.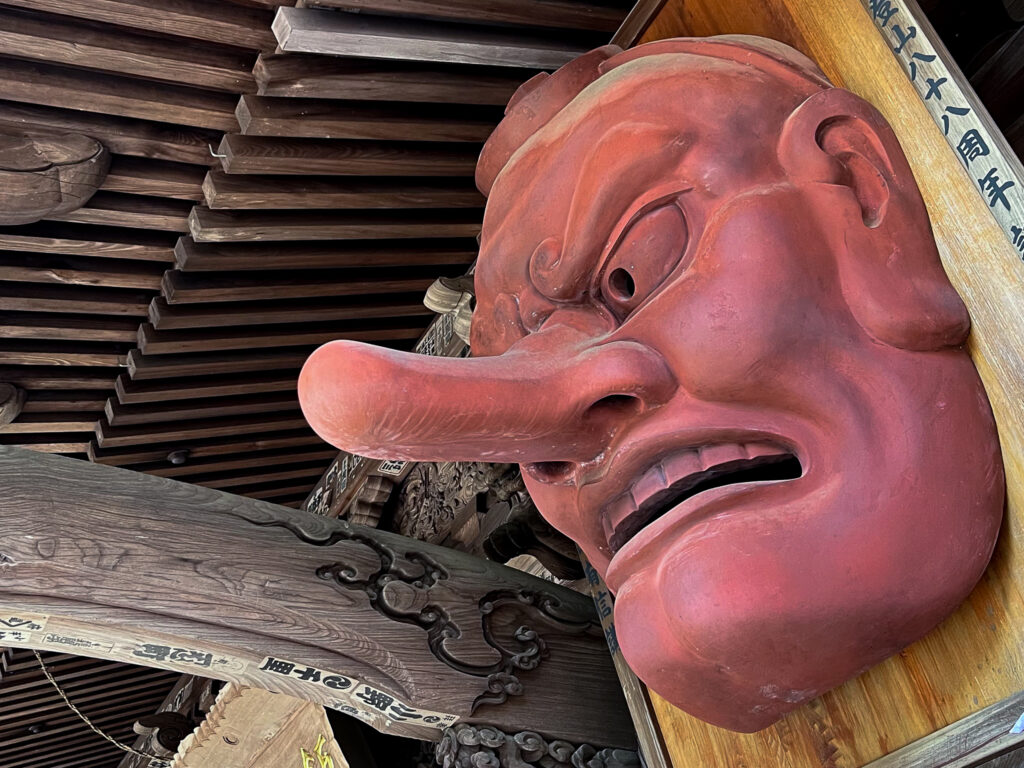 Lunch
Shojin Ryori (Buddhist vegetarian dishes) are served at the temple quarter. There are several set menus. The photo below is a set menu which the guide (Jin) chose and enjoyed himself; included are Tempra (deep-fried vegetables), Goma Dofu, Nishime (simmered vegetables), 3 kinds of Soba (buck wheat noodles), and several kinds of pickles.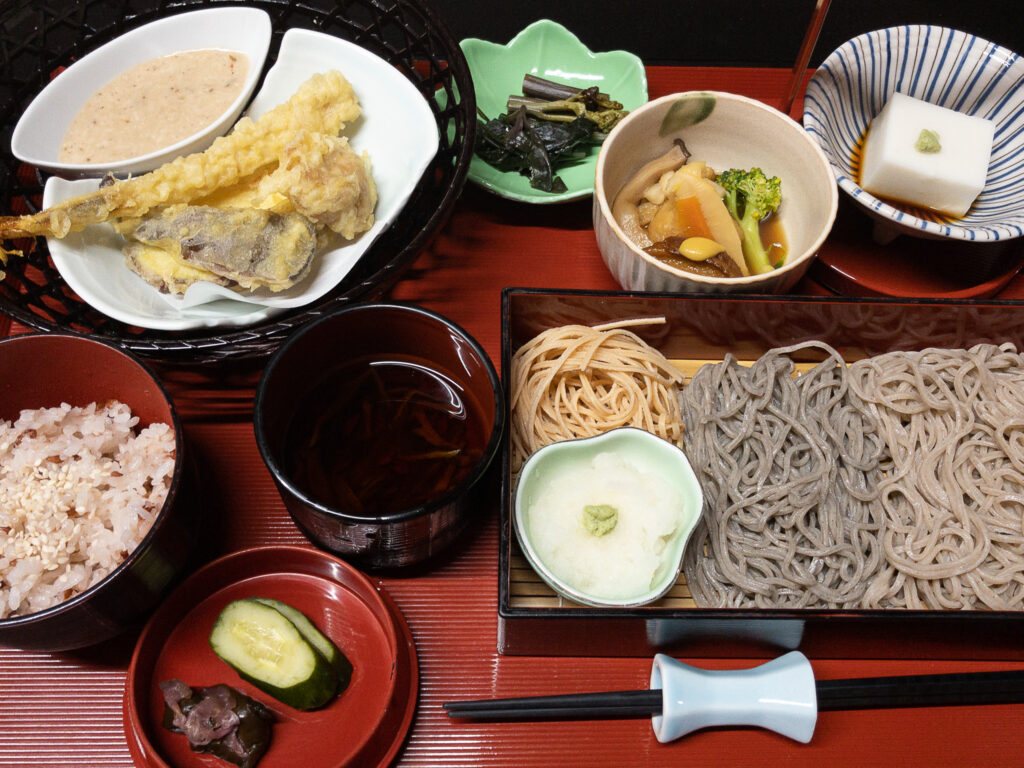 The Peak of Mt.Takao
From the peak, you can observe Central Tokyo (east) and Mt.Fuji (west) if it is fine. Going back to Takaosanguchi Station (bound for Shinjuku Station) can be done via trekking (~ 2 hours) or trekking + riding on cable railway (~ 1 hour).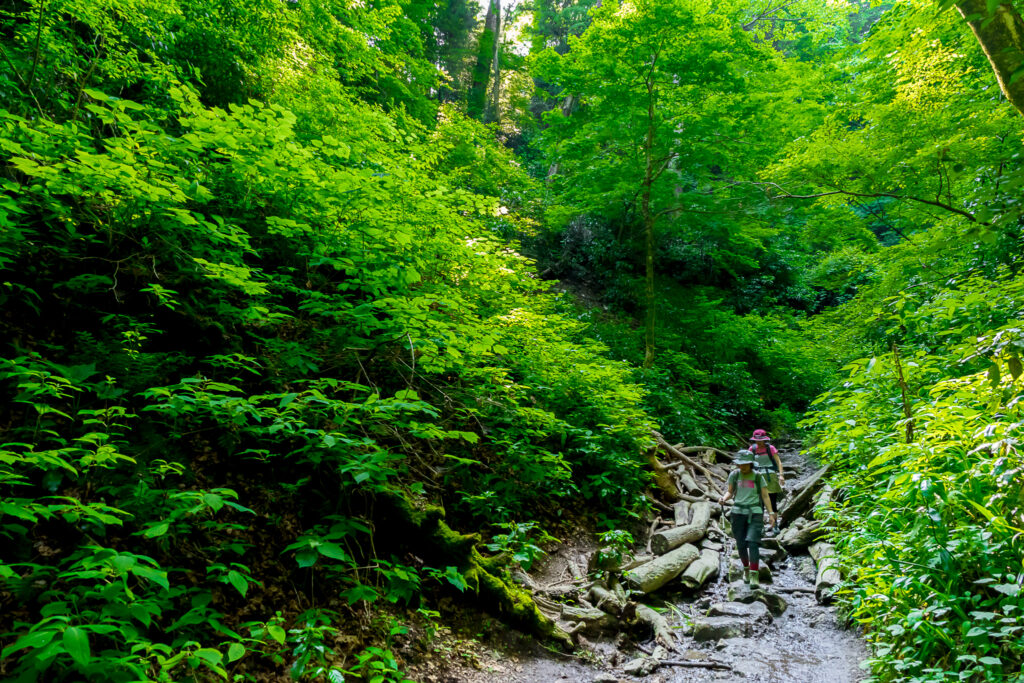 Important information about the guided tour
Language: English
Number of guests: up to 4 (if your group consists of more than 4, please consult with the guide)
Meeting place: Takaosanguchi Station (KO53) of Keio Takao Line (not JR Takao Station)
Dismissing place: Takaosanguchi Station (KO53)
Serving hours by the guide: 7 hours per day
Price (~ 4 persons) … 30,000 JPY (7-hour guiding. For an extra hour, 4,000 JPY per hour)
< Including >
7-hour Guiding fee (tax inclusive)
Guide's cost to travel between the meeting place (KO53) and his home (2,000 JPY).
< Not including >
Takao-san cable railway if you opt for it (490 JPY per head, you and the guide)
Lunch and tea break (you and the guide)
If you want the guide to pick you up at your hotel, guide's public transportation costs to travel to the hotel and his extra hour (4,000 JPY in case of additional one hour) would be added depending on the hotel's location. Details will be discussed for the guest's consent.
Contract Type: Custom-ordered
Before you apply for this guided tour, please read the following information.
Others:
(1) We walk several km in a day. Shoes which fit walking / hiking are strongly recommended.
(2) If it rains, hiking will be shortened to avoid mountainous terrains for safety (the trail will become very slippery) and itineraries will change through discussion for your consent.
(3) If you want to check availability of the guide, please click this for his calendar.
Guide: Jin Shibata
Do you have any question about the tour?
If you have any interest in the above tour or just a question, please fill in the following to start your dialogue with the guide (Jin Shibata). Thank you!