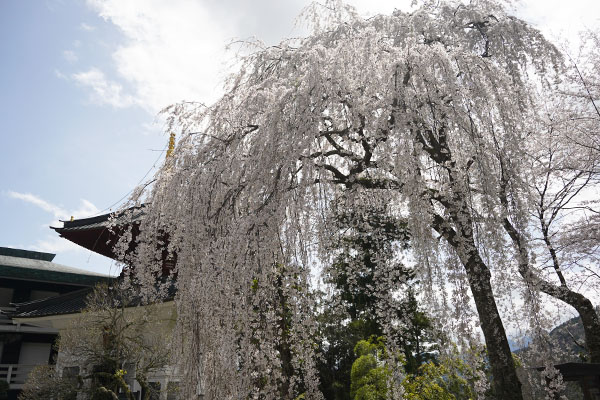 Overview
About 750 years ago, Saint Nichiren, who tried to save all people with the Lotus Sutra, entered Mt. Minobu and spent 9 long years reciting the Lotus Sutra and teaching his disciples.
In 1281, he built a full-fledged hall, which he named "Minobusan Myohokkein Kuonji". He passed away at the age of 61, but according to his will, his ashes were dedicated to Mt. Minobu and enshrined together with his spirit.
I have visited the temple twice to enjoy seeing the weeping cherry blossoms, but I was overwhelmed by the straight Bodhi ladder that reflects the temperament of Nichiren.
Sanmon Gate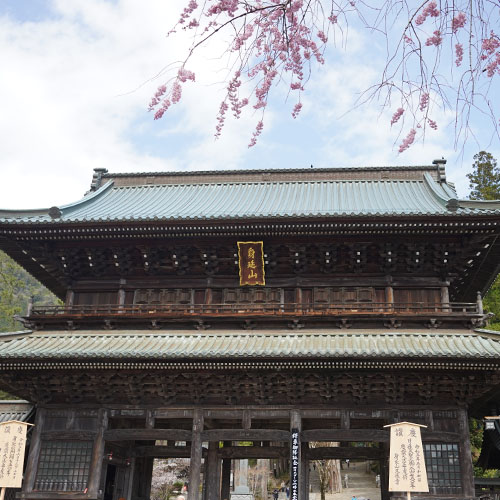 The magnificent gate is known as one of Japan's three major Sanmon gates, and was designated as a national tangible registered cultural property in 2018. On both sides of the gate, the two Diva Kings glare at you, and on the top of the gate, Buddha and the Sixteen Rakans watch over you.
Bodhi Ladder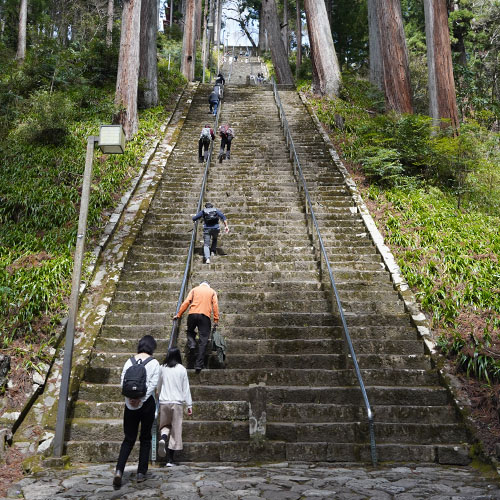 Invited by Bodhi at the Sanmon gate, you climb the ladder to achieve enlightenment, reaching the Pure Land of Kuonji Temple precincts. Unless you have a problem with your legs, you should challenge the 287 very steep stone steps. Rather than climbing the ladder to become numb, it is closer to saying that everyone becomes numb in their suffering.
Anime Pilgrimage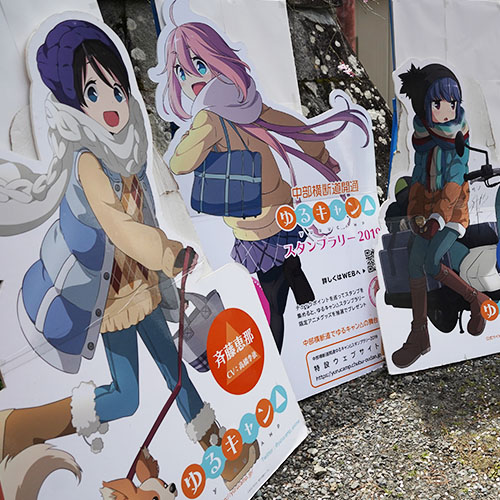 The TV anime "Yuru-camp" is set in Yamanashi Prefecture and depicts the charm of outdoor hobbies such as recreation at campsites and outdoor cooking, and the leisurely daily lives of high school girls. Mt. Minobu is one of the filming locations, and a collaboration Blu-ray between Kuonji and Yuru-camp is sold at the temple and and its temple town.
Five-storied Pagoda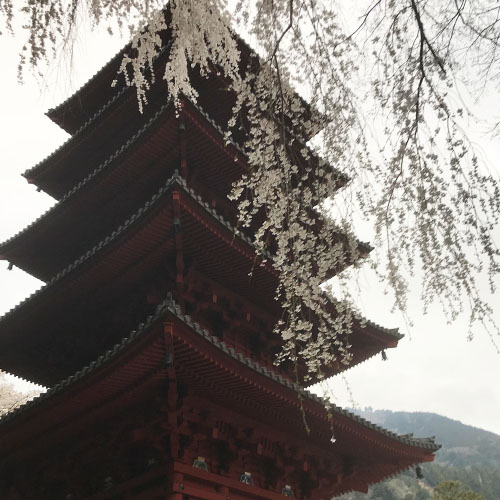 A major construction company scientifically analyzed the strengths and weaknesses of traditional construction methods, and the craftsmanship inherited from the past was fused with the current technology. The five-storied pagoda was rebuilt for the first time in 130 years.
Main Hall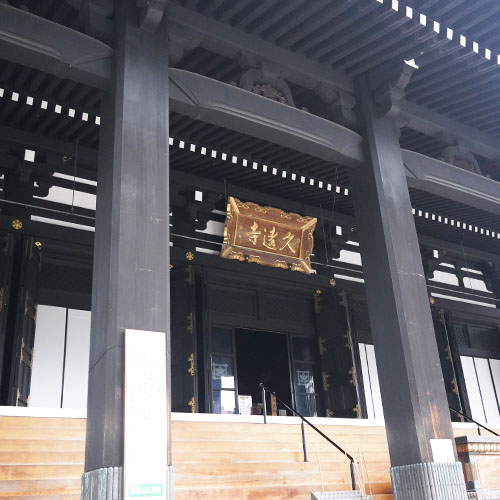 The principal image is a so-called 3D mandala, which is a wooden form of the principal image of the great mandala written by Nichiren. In the basement of the main hall, there is a treasure hall that houses temple treasures such as national treasures and important cultural properties.
Minobu Dango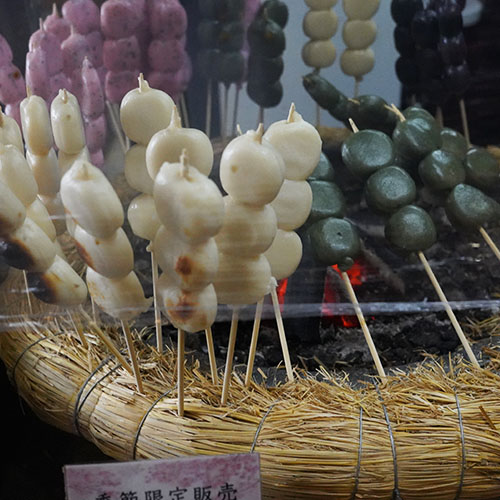 Mt. Minobu Ropeway's specialty, "Minobu Dango (dumplings)," are said to bring good luck to those who eat them. You can choose from three types of dumplings: "Yuba Dango" with high-protein yuba, "Bamboo Charcoal Dango", which uses bamboo charcoal to cleanse the body, and "Kusa Dango", a medicinal herb.
Minobu Manju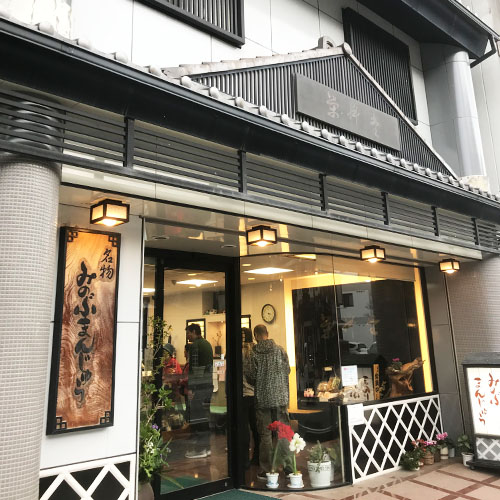 Kuonji's souvenir "Minobu manju (steamed bun)" seems to have a different taste depending on the manufacturing store. I've only bought it at Eishodo in front of Minobu Station, so I can't compare it with other stores, but it has a slightly sweet and salty taste. You can eat as many as you like!!
Great Bell Tower
I've not often seen a monk striking the great bell live, but I've never seen such super acrobatic bell striking techniques and sophisticated gesture outside of the temple. Involuntarily, I couldn't suppress the urge to put him in the video.
Okunoin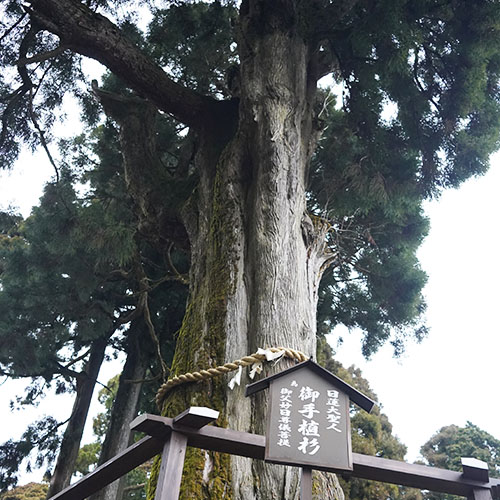 Shishinkaku, meaning a "hall where people thinks of their parents", is at Okunoin or the inner sanctuary at the summit of Mt. Minobu behind the temple. Nichiren had an irresistible longing for his hometown (now in Chiba Prefecture), and he occasionally climbed the mountain to remember his parents living in his hometown.
Basic information
| | |
| --- | --- |
| Access | Minobu Line, Minobu Station |
| Visiting Hours | 9:00 am ~ 5:00 pm |
Relating Tours
If you have any feedback, please fill in the following form. Your message will be sent to the author of this article. Thank you for reading!!